D-Day Tours
There are two tours which highlight the American Sector of operations on D-Day and the seven days following.  Of course, dozens of tours could have been included in this list, but visitors tend to have only a certain amount of time they can spend in Normandy, and we have therefore designed three tours which enable the visitor to understand Operation Overlord generally, and yet focus on some specific aspects which may hold more meaning for them.  Each tour is a full day and will include a superb picnic lunch prepared by Dean's wife, Susan.  Dean will pick you up at an agreed rendezvous point which is convenient for you and will drop you off at the same place at the end of the day.   There are up to eight places available on each tour.  The tours are private, which means that when you book, whether you are a solo or a couple, two couples, or even a party of eight, yours is the only party on the tour.  If you are looking for a more comprehensive and intimate experience, a two day tour is recommended. 
All of our tours are conducted in nice, clean heated/air conditioned, appropriately sized agency rental vehicles.  So whether you are a party of one or eight, we have you covered in comfort. They keep their cars nicer than I keep my own!  Alternatively, you can choose to drive your rental car accompanied by Dean and a diffrent rate will be applied.
Youngsters aged 12 and above are welcome on the tours at the same price as adults.   My practice is to assign each adolescent with the name of a hero and ask for a little research and a short, three to five minute presentation when the Tour reaches a place where the hero distinguished himself.  This practice not only helps to keep the teenagers engaged, but also brings a hero back to life.
Two Incredible Normandy Guided Tours
Tour One -  From Pathfinders to Infantry :  From Disarray to Slaughter to Success  (Most Popular)  This is the more popular of the two tours.  If you choose this tour, you will gain a very thorough understanding of what went on on D-Day in the American Sectors and a good appreciation for how those sectors fit in with the rest of Operation Overlord and the battle of Normandy too.
ALL-DAY TOUR HIGHLIGHTS
1. Sainte Mere Eglise
First town in Normandy liberated by American Airborne soldiers. Visit includes several points of interest around the market square, where paratroopers were misdropped during the very early hours of D-Day, also the church and City Hall.
2. La Firere and Cauquigny
A truly moving visit to the scene of what has been described by the US Army's Chief Historian, S.L.A. Marshall as "probably the bloodiest small unit struggle in the experience of American Arms." The details and significance of the four day Battle at Cauquigny and La Fiere will be explained.  One of the leaders here said there's "No Better Place to Die." Like those of Henry V's Band of Brothers who perished at Agincourt, every man who died at La Fiere died not simply as a hero, but with glory. 
3. Angoville Church
Scene of incredible bravery and spirit of brotherhood manifested by two 101st Airborne medics, Ken Moore and Robert Wright. a truly stirring visit.
4. Dick Winters Leadership Memorial
Powerful Leadership Monument and statue dedicated to a great leader, a great hero.
PICNIC STOP
5. Pointe du Hoc
Fascinating look at one of the most spectacular sites in Normandy and scene of incomprehensible bravery and determination by the U.S. Rangers. Emphasis will be given to understanding what went wrong and what ultimately went right for Rudder's Rangers at Pointe du Hoc and Charlie Sector of Omaha Beach.
6. Omaha Beach
Bloody Omaha Beach will be explored in considerable detail and at various stopping points in order to understand why the initial losses were so severe and how individual grit and determination, good fortune, the turning tide, the Navy and other serendipitous events combined to carry the day.
7. U.S. Cemetery
Arrival will be timed to enable us to view the emotional movie in the Visitors' Centre, The Close of Day Flag Ceremony including Taps, The Cemetery itself, and the scene of Captain Joe Dawson's heroism at the top of the bluffs overlooking the beach.

Tour One will focus upon the 82nd Airborne assault and liberation of Sainte Mere Eglise, a small yet strategically very important town in Normandy's Cotentin Peninsula.  Thereafter, the tour will move a short distance to the west and stop at the site of the Battle of La Fiere Bridge, which straddles the Merderet River.  Taking and holding this bridge was essential in order to facilitate the establishment of a beachhead at Utah Beach and gain sufficient time for the movement inland of men and materials from there.  Once the La Fiere Bridge had been secured, movement across the Cotentin was possible, resulting in the isolation of Cherbourg.  Next stop is the beautifully restored church at Angoville, where one of the most poignant stories of the Battle of Normandy unfurled.  After a picnic lunch stop, the tour will move along to the west of Omaha Beach at Pointe du Hoc, in order to gain some understanding of the inconceivable bravery of the United States Rangers.  Next comes a comprehensive visit to several sites along Omaha Beach.  The tour will then move on to the United States Military Cemetery above Omaha Beach for the close of day ceremony.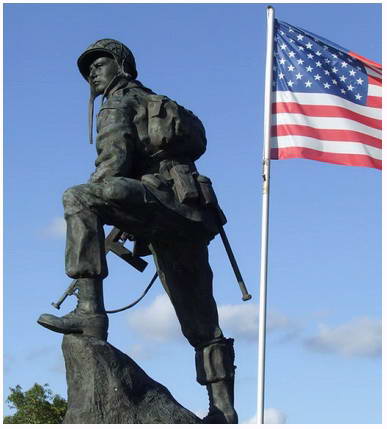 IRON MIKE at La Fiere Bridge
Tour Two - The Airborne Forces on the Cotentin: Utah Beach, Carentan, Bloody Gulch,  Graignes, Cauquigny/La Fiere and Sainte Mere Eglise.    
A very personalised, custom made tour usually chosen as a second day tour with a great emphasis on individual stories of heroism and brotherhood.  Dean will guide you through the events of D-Day and the week following, focusing on the American Airborne troops on The Cotentin Peninsula.  The Tour will provide an understanding of how this Sector fits in with Overlord generally.  He will begin with the Airborne Pathfinders, the Airborne Paratroopers, the gliders and the key battlefields of the Utah-Cotentin area. After a superb picnic lunch (provided), you will visit Carentan, Bloody Gulch and Graignes, the scene of the atrocious murder of so many American soldiers and French citizens, followed by a visit to Utah Beach.  Dean will also provide you with an extremely personalised experience based upon stories of individual soldiers and citizens and accounts related by veterans he has had the honour to meet with over the years. Your tour will culminate with an extremely moving visit to the American Military Cemetery above Omaha Beach including the close of day ceremony accompanied by Taps.
The tour will include a lunch stop, with a super picnic included, and pick up and drop off at a location convenient for you and your companions taking the tour.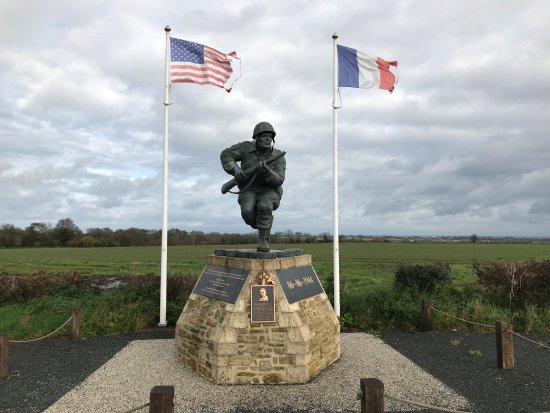 The Dick Winters Memorial at Sainte Marie du Mont.
The Tours Generally
Each Tour will take a very personalised and emotive look at some of the lives and deaths of several individuals serving in very different capacities during the Battle of Normandy.  If you have time for  just one full day tour of Normandy, Dean will help you plan a tour which includes all of those sites which really should not be missed, including Sainte Mere Eglise and La Fiere Bridge battle sites and also take a close look at the U.S. Rangers' role at Pointe du Hoc and Innfantry at Omaha Beach. a A visit will also be made to several German Resistance Nests including Number 62 at the eastern end of Omaha, where The Beast of Omaha Beach claimed so many lives.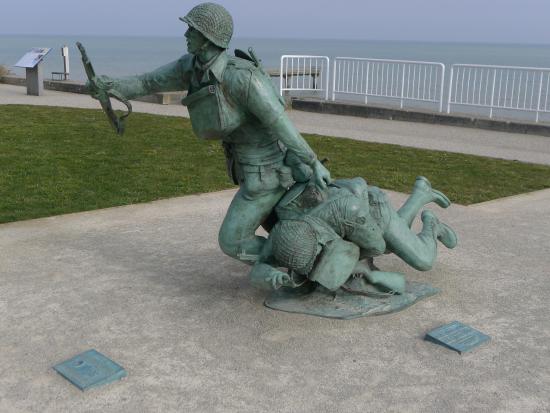 The Bedford Boys on Omaha Beach