D-Day Tours
There are three tours which highlight the American Sector of operations.   Of course, dozens of tours could have been included in this list, but visitors tend to have only a certain amount of time they can spend in Normandy, and we have therefore designed three tours which enable the visitor to understand Operation Overlord generally, and yet focus on some specific aspects which may hold more poignancy for them.  Each tour is a full day and will include a superb picnic lunch prepared by Dean's wife, Susan.  Dean will pick you up at an agreed rendezvous point which is convenient for you and will drop you off at the same place at the end of the day.   There are up to eight places available on each tour.  If you are looking for a more comprehensive and intimate experience, a two day tour is recommended. 
All of our tours are conducted in nice, clean heated/air conditioned, appropriately sized agency rental vehicles.  So whether you are a party of one or eight, we have you covered in comfort. They keep their cars nicer than I keep my own!
Three Incredible Normandy Guided Tours
Tour One -  From Pathfinders to Omaha :  From Disarray to Slaughter to Success
Tour One will focus upon the 82nd Airborne assault and liberation of Sainte Mere Eglise, a small yet strategically very important town in Normandy's Cotentin Peninsula.  Thereafter, the tour will move a short distance to the west and stop at the site of the Battle of La Fiere Bridge, which straddles the Merderet River.  Holding this bridge was essential in order to facilitate the establishment of a beachhead at Utah beach and gain sufficient time to for the movement inland of men and materials from there.  After a lunch stop, the tour will move along to the west of Omaha Beach at Pointe du Hoc, in order to gain some understanding of the inconceivable bravery of the United States Rangers.  The tour will then move on to the United States Military Cemetery at Omaha Beach for the close of day ceremony.   The tour will culminate at the gun battery at Longues-sur-Mer.  
The tour will include a lunch stop, with a super picnic included, and pick up and drop off at a location convenient for you and your companions taking the tour.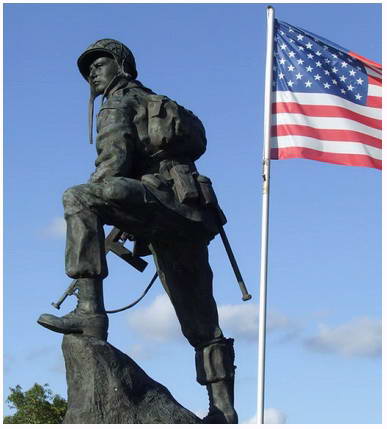 IRON MIKE at La Fiere Bridge
Tour Two - From Airborne to Infantry  (Most Popular)  Please also note that you can opt for a six hour, slightly abbreviated, version of this tour at a price which reflects the difference in scope.  The six hour tour is no less comprehensive, but you are invited to tour the U.S Cemetery on a self-guided basis after the tour.  Please specify your choice in your email.
Dean will guide you through the events of D-Day, focusing on the American Sectors and how they fit in with Overlord generally. He will begin with the Airborne Pathfinders, the Airborne Paratroopers, the gliders and the key battlefields of the Utah-Cotentin area. After a superb picnic lunch (provided), he will show you how Rudder's Rangers pulled off their amazing feat at Pointe du Hoc and then steer you through the complexities of Bloody Omaha, from the slaughterhouse to success. Dean will also provide you with an extremely personalised experience based upon stories of individual soldiers and citizens and accounts related by veterans he has had the honour to meet with over the years. Your tour will culminate with an extremely moving visit to the American Military Cemetery above Omaha Beach including the close of day ceremony accompanied by Taps.
We will visit Sainte Mere Eglise and La Fiere Bridge battle sites.  In addition, the tour will take a close look at the U.S. Rangers role at Pointe du Hoc and Omaha Beach, and also study the fate of  the beleaguered Bedford Boys and the rest of Companies A and C of the 29th Infantry Divisions 116th Infantry, among the very first to hit Bloody Omaha at 0630 on June 6th.  Time will be spent at the western sector of Omaha Beach at Charlie Sector as well as Easy Green, Dog Red, Dog White and Dog Green.  A visit will also be made to Resistance Nest 62 at the eastern end of Omaha, the nest of The Beast of Omaha Beach, and site of the Big Red One and Engineers monuments. 
The tour will include a lunch stop, with a super picnic included, and pick up and drop off at a location convenient for you and your companions taking the tour.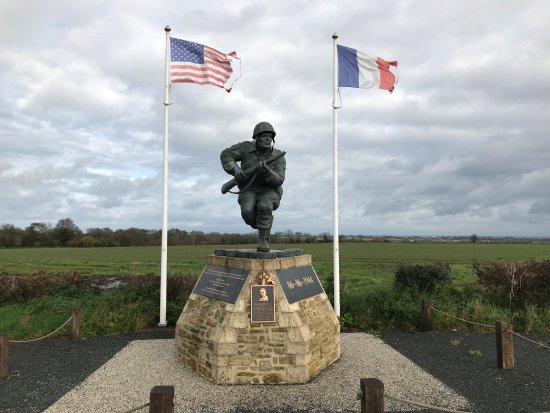 The Dick Winters Memorial at Sainte Marie du Mont.
Tour Three
Tour Three will take a very personalised and emotive look at some of the lives and deaths of several individuals serving in very different capacities during the Battle of Normandy.  Time will be spent at the site of a field evacuation hospital which was set up behind Utah Beach, at the battle site of Bloody Gulch, at the Chapel of the Madeleine in Saint-Lo, at Pegasus Bridge and at the American Military cemetery. 
The tour will include a lunch stop, with a super picnic included, and pick up and drop off at a location convenient for you and your companions taking the tour.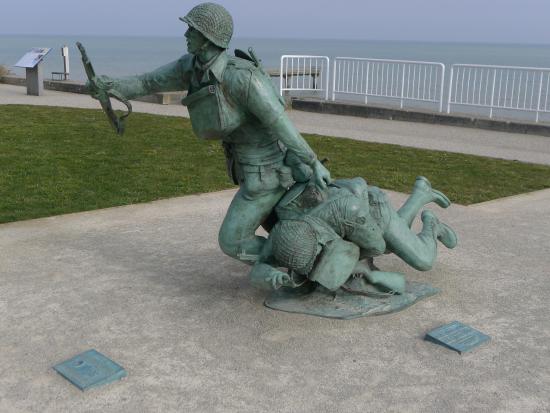 The Bedford Boys on Omaha Beach